Author & Biologist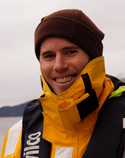 C. George Muller
Photo by: Prof. Bernd WürsigNew Zealander C. George Muller gave up a well-paying career in the corporate world to follow his heart and become a professional wildlife biologist.
He has a Masters degree in biology, and has been involved in marine mammal research for the past 7 years – with findings published in several scientific papers. His travels have taken him across the globe, including Antarctica, Alaska, and many places in between. He has worked on projects for the US National Park Service, the New Zealand Department of Conservation, and more than one university. As well as working with seals and cetaceans, He has also worked with four-legged wildlife including wolves, lynx, and grizzly bears – which makes for plenty of interesting stories!
In addition to biology, C. George Muller has experience as a fire-fighter, Search And Rescue team member, martial arts instructor, and soldier.
Echoes in the Blue is his second novel, and was inspired by his experiences on the frontlines of wildlife research and conservation. It was written while living and working in Kaikoura, the whale watching capital of New Zealand.
C. George Muller's first novel won the 2005 Richard Webster New Zealand Popular Fiction Award.
More info: NZ Book Council